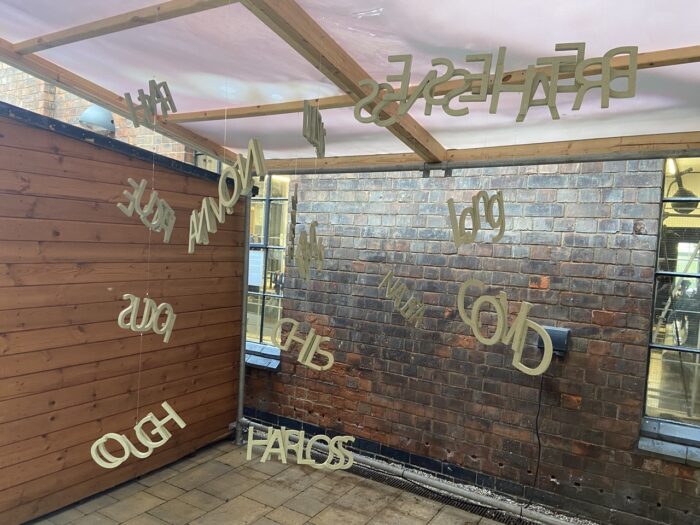 MONDAY 4 SEPTEMBER – SUNDAY 8 OCTOBER 2023
S.H.E.D INSTALLATION @ MUSEUM OF MAKING, DERBY
HEADPHONE BENCH INSTALLATION @ DERBY CATHEDRAL
Shedding Light on Long COVID is a unique collaboration that brings together scientists from the College of Science and Engineering and artists from the College of Arts and Humanities at the University of Derby. The project seeks to use S.H.E.D to help bring to life to the research that has been conducted at the university on Long COVID. At a time when the world seeks to find ways to 'live' with COVID-19, the reality is that transmission remains an ever-present threat in society. Current data shows that 1 in 10 COVID-19 patients will develop a lasting and debilitating symptom profile more commonly referred to as Long COVID. In Derbyshire there are 10,000 patients with a Long COVID diagnosis and at least 2,500 of them waiting to be seen at a specialist clinic. With sustained transmission comes an inevitable Long COVID diagnosis, which currently affects 2 million people nationally and 144 million people globally and is recognised a public health crisis. 
This project invests in culture as a driver for change through educating society about living with Long COVID through a bespoke S.H.E.D installation at the Museum of Making, later moving on to the National Rehabilitation Centre in 2024. The achievements of our collaborative project will be marked with a Long COVID conference held at the Museum of Making on Wednesday 4 October.
We're also running a programme of workshops alongside the installation:
Monday 4th September – Youth radio podcast, an Xpress U meets S.H.E.D Special, Shedding Light on Long Covid Session
Saturday 9th September 10:30am & 1pm – Performance of Long Covid Diaries by Alice Marshall (Vale) with her company Adaire to Dance at the Museum of Making
Monday 11th September – Online charity workshop, S.H.E.D & FamilyHUBS with Long Covid Kids
Sunday 17th September 10.30am & 2pm – Performance of Long Covid Diaries by Alice Marshall (Vale) with her company Adaire to Dance at the Museum of Making
Wednesday 27th September 11am- Derby Book Festival, face-to-face at the Museum of Making – sign up here
Wednesday 27th September 2pm- Online workshop Derby Book Festival – sign up here
Tuesday 3rd October 2:30pm – Derby County Community Trust
S.H.E.D Design Workshop
Make your very own S.H.E.D! Download and print the template then follow along with S.H.E.D's very own Alix Manning-Jones in the video below.
(Model Cut Out Credit S.H.E.D Director, Barend Slabbert)
Nestled under the trees of Derby Cathedral, you'll also find the S.H.E.D headphone benches. Here you'll find a radio play created by local Xpress U young people ran by M-prez Enterprise Ltd and commissioned audio works by Dr Michael Pinchbeck. Can't make it over to the headphone benches? Don't worry you can listen to the works below: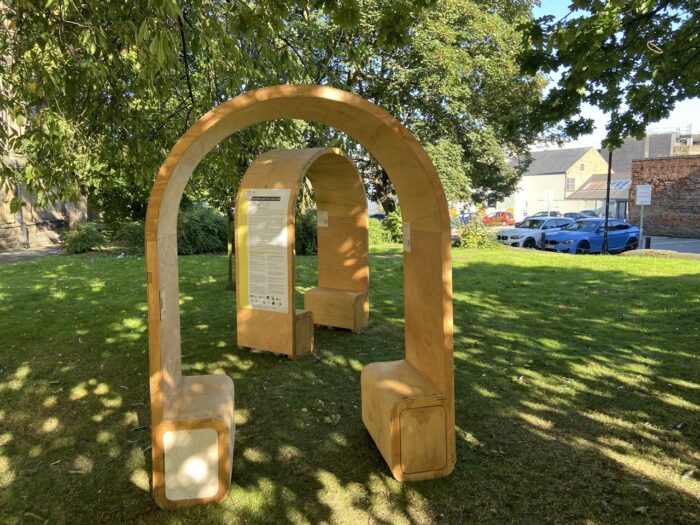 Our installation gives a platform to Long COVID lived experiences; bringing clinical and academic research together through a high-quality community project to:
Highlight the need for health and wellbeing services
Increase public awareness of living with COVID and the challenges
Provide positive change for isolated patient & public representatives through participation
Highlight civic value creative place-maker for responding to societal issues
Profile how stakeholders are responding to this problem.
This project is a catalyst for change for those living with Long COVID. Connecting the creative & cultural industry with the scientific community to create a public art sculpture unveiling new findings & impacts on society (and the future of design) for the first time. It forms a national community to 'create together' through an ambitious creative project.

Utilising design thinking, the Long COVID community has a unique position to highlight and tackle problems like those addressed in the 17 UN SDGs. S.H.E.D's reputation to create new ways of creative placemaking will be mobilised to attend to the needs of local communities to influence policy thinking on Long COVID. See: public sustainable approach to co-designing with communities (green gown award finalist 2021), Case study for NCACE (jones, Kemp 202), Design Council, (Design for Planet 2021).
We are working with a wide cross section of society affected by Long COVID, bridging the gap between industry and Higher Education through the use creative placemaking. Our work attends to regenerative sustainable design, that is human centred at a hyperlocal community led level. Increasing a sense of belonging and connection to place. This project identified the need for social transformation and profiling on provision of care for Long COVID suffers. Predicted impacts will demonstrate the benefits of participatory practice at an individual, community and built environment level. The community are the experts and the creative and clinical partnership is reflective of the inclusive approach to the design of the project, and design of the installation.
Power is shared through collaboration. We're working closing with project and research partners on the installation design and using focus group sessions led by experts in community-led placemaking. The governance structure will have patient, clinical, creative, academic and school, public representatives. The project will build a community of resilience, increasing individuals sense of wellbeing, forming deeper connections between stakeholders through their participation in the project. And, through the opportunity to connect with patient and general public.
We give thanks to the generosity of the patients who took part in the research and to our project and research partners for helping make this project possible.
Project Partners: University of Derby | CivicLAB | Museum of Making | M-prez Enterprise | Derby Book Festival | Derby County Community Trust
Research Partners: Long Covid Kids | Long Covid Physio | University Hospitals of Derby and Burton NHS Foundation Trust | Derbyshire Community Health Services NHS Foundation Trust | NHS National Rehabilitation Centre | BIOREME | Gilead | HL-Pivot