Derby City of Culture 2025 ambitions created a NEW commission for S.H.E.D to explore what a City of Culture would really mean to young people in Derby. S.H.E.D is now part of 'Team Derby'. Cross-sector working, diversity and inclusivity are central to our ethos and the crucial work in making Derby a better place to live, work and visit. Breaking down invisible boundaries is one of the key outcomes.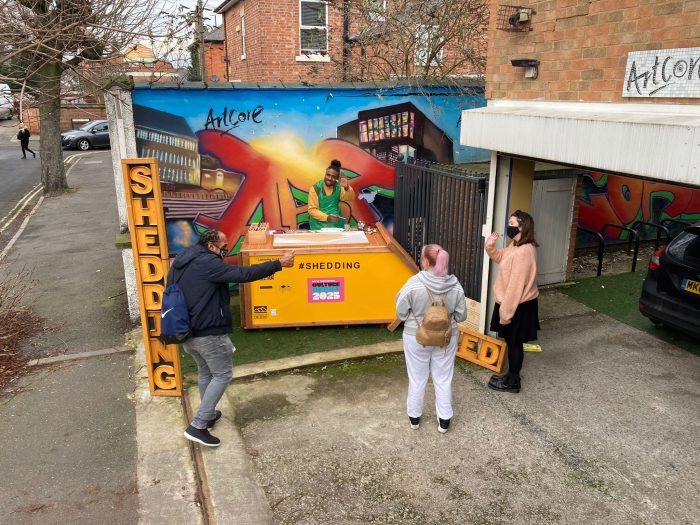 S.H.E.D is back and we're touring the S.H.E.D PODs in Derby 28th – 31st January 2022 to instigate and spark creative conversations between local residents, young people and stakeholders involved in the bid writing for Derby City of Culture 2025. This tour has been commissioned by Derby City of Culture 2025 and Derby City Council working with the University of Derby, local artists, residents, ArtcoreUK, M-Prez and Derby Parks.
S.H.E.D is taking to the streets to broadcast the views of young people, working with local organisations to create a unique platform to engage with discussions around the Derby City of Culture 2025 bid. This commission builds on the work of Derby Voice, the hugely successful S.H.E.D art installation last summer, which gave a vital platform for the thoughts and ideas of nearly 300 of our city's young people outside Derby Cathedral in the summer of 2021, and a more recent trip to the V&A Dundee where voices of young people from Derby were heard as part of Design for Planet Festival COP26.
Our PODs are broadcasting original 'Derby City of Culture' podcasts created by 14 local children aged 6 – 19 as part of M-prez's Xpress U project and Unity Works (African Inspired Kids Group). The series of youth voice podcasts explore the aspirations that young people from Abbey Ward, Mackworth, Darley, Alvaston, Blagreaves and Littleover have regarding culture and what growing up in a possible City of Culture means to them. CEO of M-prez Enterprise, Tomar Beh said "We were delighted to be working with the S.H.E.D, giving our youth the opportunity to be part of such an important project and recognising that the youth of the city are important stakeholders for the City of Culture bid." You can listen to the podcast using the embedded episode players at the bottom of this page or by visiting the M-prez Enterprise Podcast Page.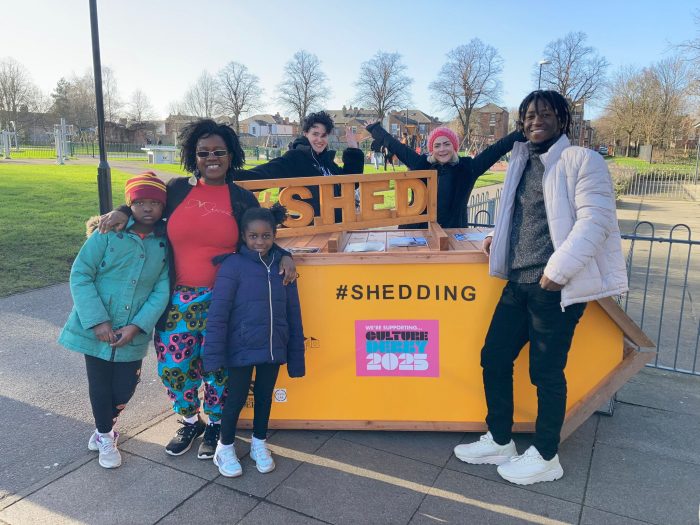 The POD can be spotted in various locations across Derby, as it broadcasts young people's voices into the city streets, parks and local neighbourhoods, in three key areas for engagement local wards, Abbey, Arboretum and Normanton. In addition to this, three commissioned youth S.H.E.D artists are out with the PODs, creating artistic interventions with the public whilst being caretakers and facilitating conversations with the public about the podcast.
Mthabisi 'Tee' Mlauzi, Adoniah 'Don' Haslam and Aleks Ksiazkiewicz, have been creating maps, murals and capturing street photography talking with residents about Derby being in the running for City of Culture status in 2025. We are encouraging the public to drop by and hear the podcasts, talk with Tee, Don and Aleks about their urgent, contemporary perspectives on life today in Derby.
"As an emerging artist in Derby I feel really proud and excited to represent such an amazing cause. Derby is a great cultural city full of history and arts which I want to show through my project with S.H.E.D. It's a great opportunity not only to expand my practice but also to highlight the best bits about Derby and work with other creatives on this bid."

Aleks Ksiazkiewicz, S.H.E.D Artist.
"Derby is my home, yet I've felt for a long time that I have never made many impactful contributions in my community as an artist until now. S.H.E.D  has given me an opportunity to display art to the public within my community that I believe can help change perspectives about some of the biggest issues in modern societies all around the world, such as Black Lives Matter and cultural interpretations of gender." Mthabisi Mlauzi (Tee), S.H.E.D Artist.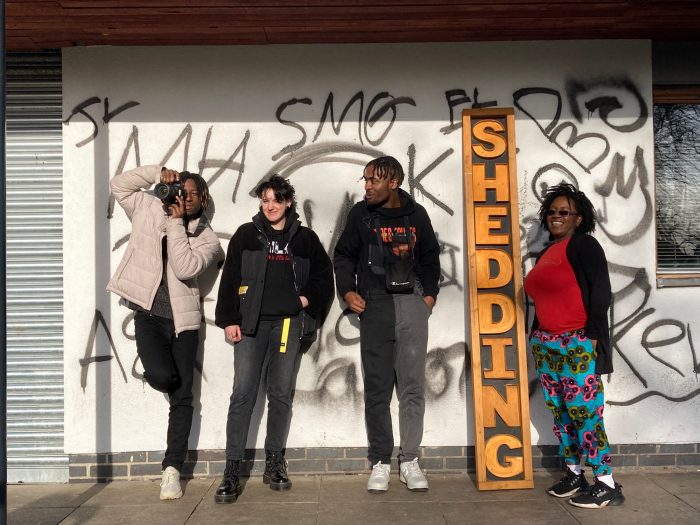 Dr Rhiannon Jones, Associate Professor (Civic) University of Derby. Founder and Co-Director of S.H.E.D: "The attraction of S.H.E.D has been its simplicity, its familiarity and its versatility. The communities who have used it have transformed it into a space for the activities that help them to engage in conversation, and art has been a great way of achieving that. It has also been a place to present opportunities for artistic activity and social engagement in hard-to-reach communities, and for engaging children and young people, and disengaged groups generally, to take part in research and consultations. As a CIC we work hard to develop and maintain partnerships with communities, individuals and organisations. One of our driving values is to have a real positive civic impact by engaging people through activities that promote dialogue about issues that are important to them. That is a strategic aim we share with the University of Derby, and we are proud to represent Derby as the city prepares its bid to be UK City of Culture 2025""We are so thrilled to be able to stage this fascinating and thought-provoking POD tour for the city. One of the many things that the pandemic has denied us is the chance to hear the voices of young people in our communities, particularly those for whom the isolation of lockdown has added to issues of identity and exclusion. We have also been able to commission local organisations and artists to support talented young people from Derby and showcase their practice in a public context. This research project responds to the need for creating a space for civic dialogue and social cohesion in the UK. Showing what a City of Culture  not just for now, but for the future can really look and sound like, shaped by the incredible talent that is coming out of Derby." 
Adam Buss said: "Derby is a place of great potential but also one that has significant challenges such as breaking down the barriers that have created an 11-year difference in life expectancy between the wealthiest and most deprived wards in the city. This is just one of the key issues that we face including those global challenges around climate change and the ipact of the increased use of Artificial Intelligence, gathering insights from Derby residents and feeding those thoughts and ideas into our bid for City of Culture is crucial and S.H.E.D's approach to engagement is unique and innovative. Together we feel we can win, but winning the title is just the start of how we can work further together to make Derby a great place to live, work and visit."
Listen to all the M-prez Enterprise Derby City of Culture Podcast episodes recorded with 14 local children aged 6 – 19 as part of their Xpress U project and Unity Works (African Inspired Kids Group) and our local Shedders