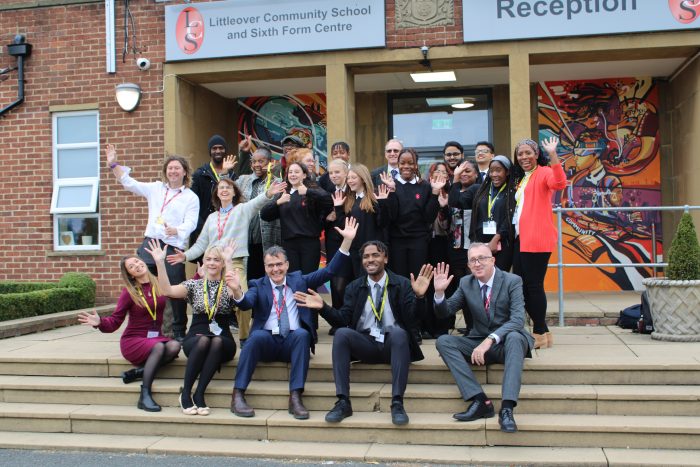 S.H.E.D is honoured to have partnered up with Littleover Community School in 2022 to support the design and installation of a mural that reflects the heart and soul of the school.
View the S.H.E.D & Littleover Mural Brochure here
Bold new artwork unveiled following University and local school collaboration
Opening event press statement
A new mural artwork at Littleover Community School in Derby has been unveiled today (October 4 2022) following a project involving the school and the University of Derby.
The School Mural, situated in the school's reception, was created after the school commissioned the Social Higher Education Depot (S.H.E.D), the University's first spin-out company, to help turn the building into a welcoming space that reflected the values of the school and wider community.
S.H.E.D. is an initiative delivered by Designing Dialogue (S.H.E.D) Community interest Company. It works with cultural venues and public providers to bridge the gap between the arts and higher education, and facilitates creative ways for people to tell their stories.
To create the mural, S.H.E.D ran workshops with students from across the school community, from year 7 through to sixth form, to explore how a mural design could capture the school's ethos of respect, learning and caring.
The resulting artwork has three main components: portraits representing various topics or aspects of the school experience; a large ribbon representing a unified community; and a refracting prism which gives structure and a framework for other elements.
S.H.E.D commissioned Adoniah Haslam, a youth artist who was responsible for designing the mural and working with three other artists to install the design. He said: "I am of Caribbean decent, however born and raised in Derby. I've always had a profound passion for how art can be created and used for higher, layered purposes. Through this experience provided by S.H.E.D, I have managed to use my art for visualising the values of Littleover Community School which has been an honour, bringing them to life for the school, staff but most importantly, the students."
David Ashman, Co-ordinator of Creative Arts at Littleover Community School, said: "Working with S.H.E.D has been a productive, fruitful, and collaborative process which has culminated in an exciting site-specific mural that reflects the school's aims of Learning, Caring and Succeeding. It has been an exciting journey to see S.H.E.D build on these initial concepts and planning started during the lockdown period, and through workshops and feedback sessions bring this to an exciting conclusion. A massive thanks to Dr Rhiannon Jones and the S.H.E.D team for their tireless energy. I am sure we will collaborate on future projects."
Jon Wilding, Headteacher at Littleover Community School, added: "We are delighted that S.H.E.D has been able to bring our vision for a school mural to life. The final mural has surpassed our expectations and is an incredibly powerful work, which we believe embodies the inclusive and diverse nature of our school community."
The collaboration with the school reflects the University's civic commitment. In June this year, it launched a Civic University Agreement with signatories from across the city and county pledging to work together to drive forward local recovery and regeneration, helping to channel aspirations, support local communities and share knowledge.
Dr Rhiannon Jones, Associate Professor (Civic) at the University of Derby and CEO of S.H.E.D, said: "As a Civic university we are committed to working collaboratively with schools to support creative and cultural endeavours and we were thrilled when Littleover Community School reached out. Our collaboration reaffirms our ongoing commitment to playing our part in the prosperity and wellbeing of the city of Derby and the county of Derbyshire."