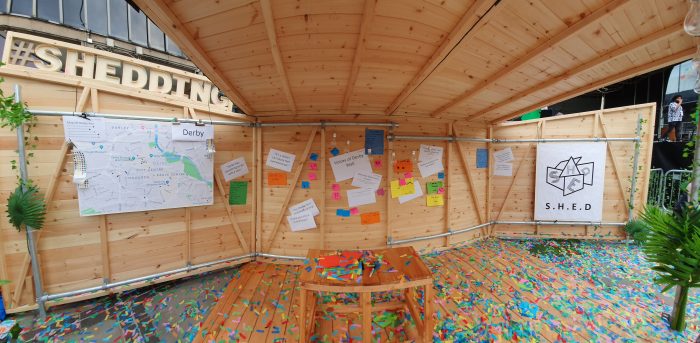 Are you a young artist aged 18 – 25?
Do you live within 15 miles of Derby City Centre?
Do you want an opportunity for your creative digital work to be shared in a public setting?
We are offering a paid commission to produce a new piece of artistic work for a public display on the mobile arts space, S.H.E.D, from the 16th – 20th July, when it is in residence at Derby Cathedral. The selected individual will be awarded £200 and will be supported by Cultural Education Producer, Alix Manning-Jones and the S.H.E.D Team.
What we are looking for
A piece of digital art work that can be displayed on a big screen, or broadcast through speakers, alongside other artistic digital media pieces at a public exhibition. This could include a short audio visual piece, a creative audio production or a digital photographic montage – it all depends on your artistic practice. This need not be a completely new piece of work, it could be something you have to hand and want to share with a wider audience.
About the Install
S.H.E.D has been designed by young people, to create a space in the city to showcase youth voice and homegrown talent in Derby. S.H.E.D wants to break down barriers, and shed preconceptions about people and place – highlighting the talent of young people and problems, issues and questions that need to be heard and so S.H.E.D is an instigator for change. Creating a unique, mobile and pop up space to platform and broadcast, proud and loud the key issues and concerns that you want to tell the world about! Your creative piece should fit in with the above themes.
Still interested? Then here is some more key information…
---
How to apply
We like to keep things simple:

Step 1: Send the info below in an email to hello@weareshed.co.uk

Step 2: Make sure the subject of your email states your name and reference "YPPC" in the subject

Step 3: Send us a sample of your work, (PDF /Jpeg) or a link to your work in Vimeo/Soundcloud/YouTube so we can view/hear it! Please be clear if this is the work you want to exhibit or if you intend to create a new piece. If you're sending a file too big for email, we recommend using WeTransfer to generate a download link for us

Step 4: Tell us about you and your work in 100 words or less

Step 5: Make sure to give us your preferred email address or contact number

Step 6: Attach a completed Equality Monitoring Form to your email
(click here to download)

The deadline to email us is Monday 10th May 2021. We will let you know the outcome by Thursday 13th May 2021. The successful young person will be invited to a welcome meeting at 11am on Saturday 15th May 2021.
---
Want to know more about the partners and S.H.E.D… click the links below for further information
Artcore UK | Baby People | Co-Creators Change Midlands Network | Cultural Campus | Derby County Community Trust | Derby Cathedral | Derby City Council | Derby Quad | Derby Theatre | University of Derby